Joyce Ruth Blank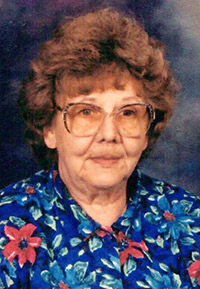 Joyce Ruth Blank, 91, of Holley passed away Jan. 9, 2022 at Edna Tina Wilson Living Center in Rochester.  She was born Sept. 7, 1930 in the Town of Clarendon, a daughter of the late Tracy and Florence (Bowen) Smith and had lived in this area all of her life.
Joyce was a member of the Order of Eastern Star and the Disciples United Methodist Church.  She worked as a Real Estate Agent, Town Clerk and Insurance Agent, and after worked in the cafeteria at Brockport Central School for many years, retiring in 2015.  She loved to cook and spend time with her family; especially her grandchildren and great-grandchildren.
In addition to her parents, she was predeceased by her husband, William Blank; daughter, Karen J. Blank; brother, Frank (Mary Ann) Smith; and brother-in-law, Robert Blank.
She is survived by her sons: Kenneth (Carol Rademacher) Blank, Robert (Karen) Blank, Phillip (Jodi) Blank; grandchildren: Andrew (Nicole) Blank, Daniel (Jaylene) Blank, Stephen Blank, Michael (Amanda) Blank, Gregory (Brittany) Blank, Rachel and Caleb Blank, Joseph (Samantha) Lathigee, Afton (Tony) Rodriguez; several great-grandchildren; brothers-in-law: Donald (Joanne) Blank, Albert Blank; sister-in-law, Emma Blank; as well as several nieces, nephews and cousins.
There are no calling hours.  Her memorial service will be announced at a later date.  Burial in Hillside Cemetery.  Memorials may be made to the Disciples United Methodist Church, 4410 Holley Byron Rd., Holley NY 14470.  Arrangements have been entrusted to the Christopher Mitchell Funeral Homes, Inc.
To share a special memory of Joyce, please visit: www.mitchellfamilyfuneralhomes.com­