Josiah Matthew McDowell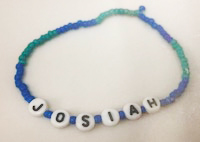 Josiah Matthew McDowell, infant son of Alyssa McDowell of Holley, died June 10, 2020 in Strong Memorial Hospital after giving all the love he could give in his one day here on earth.
In addition to his mother, Alyssa, Josiah is survived by his twin brother, Jasper Michael McDowell; his aunt and uncle, Kayla and Matthew Wilson; his cousin, Carter Wilson; his grandparents, Michael and Jolynn Lamphron; and his great-grandparents, Karen McDowell and Michael and Joann Cavuoto.
Private services will take place at the convenience of the family.
Josiah's arrangements have been entrusted to Christopher Mitchell Funeral Homes, Inc. of Holley. To share a condolence or message of love and support to the family, please visit www.mitchellfamilyfuneralhomes.com.