Joseph A. Szalay Jr.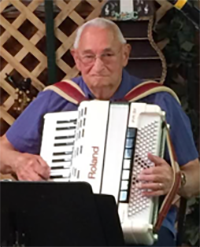 Joseph A. Szalay Jr., 88, went home to be with the Lord on Sun., Sept. 19, 2021. Born March 22, 1933 in Buffalo, NY, the only child of Joseph A. Szalay and Agnes (Nussall) Szalay.
Joseph A. Szalay Jr. grew up on a farm. He graduated from Royalton Hartland Central School in 1950. Joseph married his wife the late Carol (Coon) Szalay in April 1955 and joined his father in operating a dairy farm in Gasport, then Middleport until 1973, at which time he sold out. He then went to work at CJ Perry John Deere dealer as a salesman until retirement and then part-time until their closing in 2001. Then he helped his son in the car business. Joseph was a musician, playing the accordion and Hammond organ for clubs and weddings for years. He founded the dance band "The Tune Dusters" having  performed at the Eagles Hall for 6 years straight. He purchased a place at the 1000 Islands where he loved to go and fish for many years. He was a member of the Eagles and past member and president of the Junior Wilsons in Medina, an avid card player and horseshoe thrower.
He was the husband of the late Carol J. Szalay, and the father of the late Patricia (Dan) Kelyman. Joseph is survived by 3 children: Pastor Joseph A. Szalay III (Cindy), Catherine (John) Zagmester and Mary Capper; grandchildren: Dan, Jason Kelyman of Fla., Melissa (Richard) Tidwell, Jennifer Szalay (William Stear), Cassandra (Josh) Liuzzi, Donna (Lisa) Bower, Donna (Rich) Favaloro, Mary Grace Zagmester, Nicholas Zagmester, Jamie Capper of Canada; 15 great-grandchildren; and dear companion, Theresa  Boyce.
Calling hours will be 10 a.m. -12 p.m. on Fri., Sept. 24 at Community Fellowship Church, 3146 Johnson Creek Rd., Middleport with Pastor Joseph A. Szalay III conducting a memorial service at 12 p.m. followed with a dinner. Burial will be in Sacred Heart Cemetary, Medina. Memorials and donations can be sent to Community Fellowship Church.
Arrangements where entrusted to the Bogan & Tuttle Funeral Home, 226 Pearl St., Medina, NY 14103.
Please light a candle or share a memory of Joseph at: www.bogantuttlefunerals.com