John Stanley Kast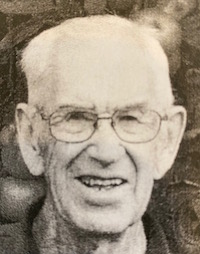 ALBION – John Stanley Kast, 103, passed away May 7, 2021.  Stanley was born on West Transit Church Road on December 29, 1917 to John T. and Ruth (Chapman) Kast and was a lifelong resident of this area.
Stanley went to school at the corner of Densmore Road and West Transit Church Road, and was proud to be the one to start the wood stove every morning in the winter. He finished his schooling at Albion. He then worked on and was a partner on the family farm for his entire life.  Stanley was an active member of many farm organizations, the town planning board, and Boy Scout Troop #48.
His family was the love of his life and he looked forward to them coming to the farm throughout the years. The farm was his passion and he knew what was happening there until the end. Stanley was active in the East Gaines Church and then in the Gaines Carlton Community Church until he stopped driving four years ago.
He was predeceased by his wife of 64 years, Evelyn (DeNagel) Kast in 2009 as well as his father and mother, John T. and Ruth Kast; sisters, Elsie (Howard) Plumb, Evelyn (Roy) Weisenborn and Marjorie (Lloyd) Hubbard; brothers, Rolland (Anita) Kast and Merwin Kast; brother-in-law, Raymond (Connie) DeNagel; and sister-in-law, Ruth Kast.
He is survived by his sons, David (Kathy) Kast and Paul Kast; grandchildren, John (Cheryl) Kast, Laura (Tom) Kaczmarek and Brett (Amanda) Kast; great-grandchildren, Kennedy Smelski, Tyler Kast, Sierra Kast, Logan Kast, Lea Kaczmarek, Brantley Kast and Easton Kast; his brother, Lavern Kast and many more extended family members, friends, and devoted aides.
Family and friends are invited to attend Stanley's Memorial Service, Friday May 14, 2021 in the Gaines Carlton Community Church, 14585 Ridge Road, Albion, beginning at 11 a.m. In lieu of flowers, memorials may be made to the Gaines Carlton Community Church, P.O. Box 431, Albion, NY, 14411 or Supportive Care of Orleans, P.O. Box 489, Albion, NY, 14411.  Stanley's arrangements have been entrusted to the Christopher Mitchell Funeral Homes, Inc. of Albion.  To share a special memory of Stanley, please visit: www.mitchellfamilyfuneralhomes.com.