John R. Daniels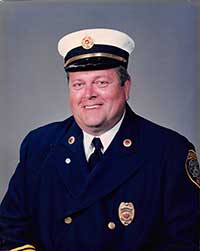 John R. Daniels, 82, of Albion, died in his home Aug. 18, 2020, following a brief illness and surrounded by his family. He was born Jan. 2, 1938 in Albion to John S. and Frances (Nayman) Daniels and was a lifelong resident of this area.
John was a 1951 graduate of St. Mary's School and married the love of his life, Alice Conley, on Feb. 7, 1959. He was a veteran of the United States Army National Guard, and he was a former employee of Eastman Kodak. John was a life member of the Albion Fire Department, having participated as an Albion Firefly on the Competition Tournament Team, and he served as Assistant Chief and Chief of the department. He also gave back to his community by serving as a trustee on the Albion Village Board and as an Arson Investigator for the Orleans County Sheriff's Department. John was a member of St. Mary's Athletic Club and St. Mary's Archer's Club, and he was an avid deer hunter who enjoyed fishing, trapping, and going to the blues festival in Alexandria Bay for years.
Mr. Daniels was predeceased by his wife, Alice.
He is survived by his children, John (Emily) Daniels of Alabama, Teresa (Chris Miller) Daniels of Florida, and Richard Daniels of Albion; his brother, Robert (Peggy) Daniels of Albion; his grandchildren, Christina (Steve Watts) Daniels, Katherine (Jared) Fleming, Ann (Quil) Gaffney, and Thomas (Jennifer Ryder) Manning; his great grandchildren, Allister, Archibald, Ellis, Ashay, Tianna, Haley, Alexis, Corbin, Coby, Aquil, Hailey, Joshua, Kadinz, Alyxes and Kale; as well as several nieces and nephews.
There will be no calling hours. John's service and interment will be private at the convenience of the family.
In lieu of flowers, memorials may be made to National Kidney Foundation, 30 E. 33rd St., New York NY 10016.
John's arrangements have been entrusted to Christopher Mitchell Funeral Homes, Inc. of Albion. To share a special memory of John, please visit www.mitchellfamilyfuneralhomes.com.