Joan Wigley (JoAnn), nee Crawford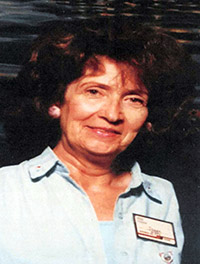 "The day she had to leave us when her life on earth was through, God had better plans for her, for this we surely knew" – author unknown.
Joan Wigley (JoAnn), nee Crawford, loving mother, 86, entered into her final rest on Fri., Sept. 2, 2022, at her home in New Castle, PA.
Born on Feb. 26, 1936, in Mount Jackson, she was the daughter of the late Herbert and Lilah Blake. In addition to her parents, she was preceded in death by her devoted husband of 59 years, Donald C. Wigley in 2012, also of New Castle, as well as a half-brother. She is survived by her children, David D. Wigley and Jodi L. Shaffer, both of New Castle, and Gregory C. Wigley (Kelli) of Boardman, OH, as well as by her grandchildren, Zachary C. Shaffer of Buffalo, NY and Cassandra and Mackenzie Wigley, both of Boardman, OH.
She had owned and operated, along with her husband, Parkstown Video, located at Parkstown Corners, New Castle, for 10 years. Upon retirement, she and her husband relocated to Western New York, where she enjoyed gardening, being a merchant of eBay, and visiting Turning Stone and Seneca casinos. JoAnn had recently returned to her home state where she enjoyed spending time with family and friends, doing work search puzzles, watching NASCAR and football, where she cheered on her favorites, Kevin Harvick and the Buffalo Bills' Josh Allen.
She was cherished by her family and will be sadly missed by them as well as her sidekick cat, Mimi.
In honoring JoAnn's wishes, there will be no calling hours. A memorial for the immediate family will be arranged at their convenience.
Memorial contributions may be offered in JoAnn's name to the American Cancer Society.
Arrangements have been entrusted to the R. Cunningham Funeral Home & Crematory, Inc., 2429 Wilmington Road, New Castle, where online condolences may be offered to the family by visiting www.cunninghamfh.com.