Joan W. Anderson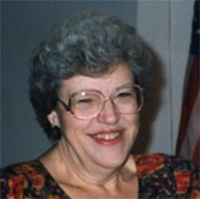 Joan W. Anderson, 89, of Barker entered into rest peacefully on Dec. 1, 2020 at MMH Orleans Community Health, Medina, NY.
Born March 1, 1931 in Barker, Joan was the daughter of the late Delbert and Doris (Rhodes) Wass. A 1948 graduate of Barker Central School, she then attended RBI, graduating as a Medical Secretary. After marrying the late Malcolm "Andy" Anderson on July 20, 1951, they made their home in the Town of Somerset.
Joan was a life-time member of Faith United Methodist Church of Barker, including the Women's Society, choir, and the Avon Study Club. Her beautiful soprano voice graced countless church services, cantatas, weddings, memorial services, and community events.
Joan enjoyed singing, watching classic movies, knitting, playing piano, the family cats, and spending time with her children and grandchildren, both locally and those in Florida and Michigan.
She is survived by her children Dana (Deborah) Anderson of Chesterfield, MI, Lynne (Gregory) Nellist of Medina, Lisa (Scott) Becker of Sarasota, FL, and Delbert (Cynthia) Anderson of Barker; granddaughters Erin (Michael) Kramer, Alicia (Jed) Shaffer, Rachel (Stephen) Kudiba, Krista Nellist, Tara Poss, and Erica (Chris) Dennis; great grandchildren Roland, Leith, and Holden Shaffer, Lillian Pohl, Calvin Herb, and Cadence, Kai, and Emersyn Dennis. She is also survived by her sister Joyce (Michael) Gubesch and many nieces, nephews, and cousins.
A celebration of life service will be announced at a later date. In lieu of flowers, memorials may be made to Faith United Methodist Church of Barker, or the Barker Alumni Association.
Arrangements are in the care of Rutland-Corwin Funeral Home of Newfane. Share memories and condolences at www.rutland-corwin.com.