Joan Thomason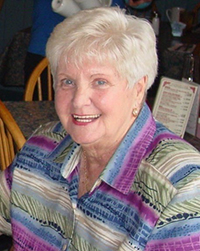 Joan Thomason, who was our mother, grandmother, great grandmother and aunt, signed off on a life "generally well lived and with few regrets (her words)", in December. She was 91 years old.
Joan was born at Arnold Gregory Memorial Hospital in Albion to George and Helen Massett. The second of three children, the family moved to Youngstown, NY where Joan grew up and graduated from high school.
She fell in love with a soldier stationed at Ft. Niagara, married and moved to Germany. A few years after returning to the States they loaded up their two kids and headed to Northern California to work on the Oroville Dam. The kids grew up there and in the early 70's Joan, recently divorced, decided to head East to visit her folks.
Joan's favorite quip was "I came back to Albion for just one summer and ended up meeting my soulmate, Tony Albanese, and lived the rest of my life here!" After Tony died, her children tried to convince her to move back to Northern California, but she did not want to leave her home or her village.
Joan worked in the County Treasurers office and then went on to retire from the Purchasing Department at SUNY Brockport. For 25 years she worked the Red Cross registration desk for every blood drive and the various elections for the Election Office. She also helped out the ladies at Office for the Aging.
Many people helped to keep her safe and sound in her home, from Office for the Aging to the Subway Gang, but none more so than Nancy Daniels, her caregiver. We are eternally grateful. Joan had a great life. Look out Tony, she's coming your way. Let the good times roll.
Joan is survived by her daughter, Wendy Ricciardi(Wayne) and son, Jeffrey Thomason, She requested no services be held. Should you want to make a donation in her memory, Office for the Aging is a fine organization.  Arrangements were entrusted to the Christopher Mitchell Funeral Home, Albion.
To share a special memory of Joan, visit www.mitchellfamilyfuneralhomes.com.