Joan Brennan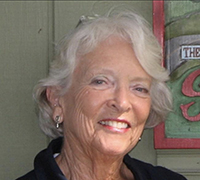 LAFAYETTE – Joan Brennan, age 96, died April 14, 2022, at The Blake at Lafayette, in Lafayette, Louisiana.
Born April 18, 1925, Joan grew up in Escanaba, MI, Green Bay, WI and Albion, NY.  After graduating from Albion High School, she attended Denison University in Ohio then studied at Traphagen School of Fashion in Manhattan, after which she embarked on a career as a fashion illustrator. Her artwork was displayed in metro newspaper ads around the United States.
In 1946, Joan married Charles F. Brennan, Jr. of Medina and Albion, New York. The couple lived in the Midwest and Western New York, establishing their careers and creating a family. After raising their three children in Spencerport, New York, the couple moved to Sarasota, Florida in 1977, living on Siesta Key for many years.
Joan was an active member of The First Congregational Church in Spencerport and the Siesta Key Chapel in Sarasota. She remained an active artist, specializing in portraiture later in life. She was a member of the Fine Arts Society of Sarasota, volunteered with the Spencerport Volunteer Ambulance Service, and enjoyed involvement in numerous arts, religious, civic and cultural activities.
Joan is predeceased by her husband of 58 years, Charles "Bud" Brennan; her parents, Pearl and Don Stimson; and her beloved sister, Jean Sperry.
Celebrating her life are daughters Barbara (Steve) Johnson of Bellingham, WA; Nancy (K Collins) Brennan of Lafayette, LA; and son Charlie (Neale) Brennan of Hernando, FL; six grandchildren:  Lucas, Ayla, Nell, Siena, Tobey, and Samantha, and nine great-grandchildren: Grayson, Casey, Brennan, Hazel, Bradley, Nova, Declan, Biko, and Donna.
Joan received great support and comfort from the staff at The Blake, Acadian Hospice, and especially her daughter/longtime caregiver Nancy.
Cremation and arrangements by Cremation Society of Acadiana with a family memorial service at Mount Albion Cemetery in New York this summer.
In lieu of flowers, the family would appreciate memorials to be made to the First Presbyterian Church of Albion, NY (29 E State St., Albion, NY 14411) or to the Alzheimer's Foundation of America (322 8th Avenue, 16th Floor, New York, NY  10001 or online at https://alzfdn.org/support-us/donate/