Jim Manchester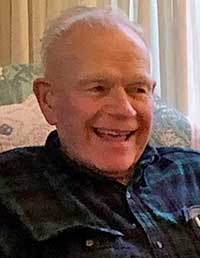 Jim Manchester, 81, of Medina, beloved husband, father and grandfather, passed away unexpectedly on Thursday morning, Nov. 14, 2019, at Rochester General Hospital. He was born on June 13, 1938 on Sour Springs Road in Medina to the late Jim Manchester and Mary (Boutin) Manchester.
He resided in the area all of his life, living in Medina, Albion and Middleport. On Oct. 8, 1960, he married Marilyn Lackner. They raised a family together. He spent many years working at and then operating the family business, Travel Trailer Center. He greatly enjoyed the relationships that were developed as he helped his customers to become happy campers. He was known in the community as a hardworking and well-respected businessman.
Jim was baptized on Sept. 22, 1955 as one of Jehovah's Witnesses. He attended the Medina, Albion and Middleport congregations of Jehovah's Witnesses. He was an ordained minister who greatly enjoyed speaking to others about the Bible. Many who knew Jim will remember that he also greatly enjoyed being a part of the building team that assisted in building and remodeling Kingdom Halls. Jim loved spending time traveling with his wife, their children and grandchildren. They spent most summer vacations camping at Nick's Lake Campground in Old Forge in the Adirondack Mountains. Many good memories were made there with treasured friends and family. Jim especially enjoyed keeping the campfire going all day. They also enjoyed winter vacations in Florida, including many trips to Walt Disney World and the beach. Jim also took great pride in his vast vegetable garden and grape vines. Jim and Marilyn recently celebrated their 59th wedding anniversary with their family.
Jim is survived by his wife, Marilyn; children, Dawn of Middleport, Todd (Leah) of Lockport, Jason (Jodi) of Sarasota, Fla., and Kristin (Jonathan) Saulsbury of Middleport; grandchildren, Brendan and Gillian Schyve, Dominic James Manchester, and Jianna and Jaydan James Saulsbury; brother, Ron (Joyce) Manchester of Vero Beach, Fla.; as well as other relatives and friends.
He was preceded in death by an infant daughter, Lynette.
The family will receive friends on Sat., Nov. 23 from 1 to 3 p.m. at the Kingdom Hall of Jehovah's Witnesses, 3830 Stone Road, Middleport. A memorial service will be held at the same location at 3 p.m.
In lieu of flowers, memorial donations may be made in Jim's name to the family; or to Kingdom Hall of Jehovah's Witnesses, 3830 Stone Road, Middleport NY 14105.
Arrangements were entrusted to Bogan & Tuttle Funeral Home, 226 Pearl St., Medina NY 14103. Please share a memory of Jim at www.bogantuttlefunerals.com.