Jeanette R. Burns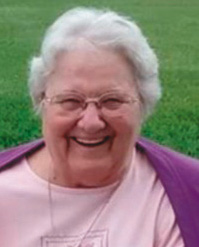 Jeanette R. Burns, 84, of Medina, entered peacefully into rest on Sun., Feb. 7, 2021.
Born Nov. 16, 1936 in the Town of Alabama, she was a daughter of the late Clifford and Lillian (Barnes) Hillyard. Mrs. Burns grew up in the Medina area and worked for the L Motel and various stores in the area. She went on to work for BernzOmatic, and retired after 27 years.
Mrs. Burns was preceded in death by her husband, Frederick E. Burns in 1993; stepson, Bruce Burns in 2003; and sister, Clara Fry in 2010.
Survivors include her two sons: Dennis (Barbara) Dean of Zephyr Hills, Fla. and David (Lorene) Dean of Lockport; daughter in-law, Lorna Burns; grandchildren: Annie Burns, Julie (Jeremiah) Dean Conert, Alicia (Joshua) Dean Granzow, Jennifer (Marshall) Everheart, Devlin Dean and David (Jennifer) Dean, Alysa Worden and Emma Burns; several great-grandchildren; siblings: Gertrude (late Roy) Baker, Esther (late Carl) Reek and Joan (late John) Schad; also several nieces and nephews.
Her graveside committal service in West Ridgeway Cemetery will be held at a later date to be announced. In lieu of flowers, memorials may be made to Niagara Hospice, 4675 Sunset Dr., Lockport, NY 14094. Arrangements are in the care of Cooper Funeral Home, 215 W. Center St., Medina. Share memories and condolences at www.cooperfuneralhome.com