Jean E. Dingman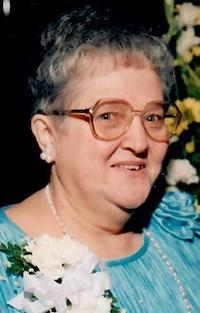 MEDINA – Jean E. Dingman, 85, of Medina, NY, passed away on Friday, May 27, 2022 at the Medina Memorial Hospital, North Wing.
She was born on May 12, 1937 at home on East Shelby Rd. She was the daughter of the late Walter and Ethel (Greene) Scharlau.
On March 20, 1957, Jean married the love of her life, the late Joel K. Dingman and together they raised a son. Jean worked for many years for G.C. Murphy's and later retired as a Corrections Officer for the Orleans County Jail. Jean took great pride in being a member of the East Shelby Volunteers Ladies Auxiliary for 47 years, serving as past President and Trustee. She took great comfort in attending services at the Calvary Tabernacle Assembly of God Church of Medina. Most of all Jean enjoyed spending time with her family and friends and was a proud grandma to her grandsons.
Jean is survived by her son, Walter K. (Wanda) Dingman; two grandsons, Derek and Nickolas Dingman, all of Medina; a sister, Margaret (Gordon) Reigle of Medina; a brother-in-law, William (Nancy) Dingman of Pennsylvania; as well as several nieces and nephews.
In addition to her parents and husband, Jean is predeceased by a brother, Walter (Barb) Scharlau; a sister, Shirley (William) Walters; and a sister-in-law, Dora "Dody" Wilson.
Relatives and friends may call on Monday, June 6, from 11 a.m. to 1 p.m. at the Bogan & Tuttle Funeral Home, 226 Pearl St. Medina, NY 14103 where a funeral service will be held at 1 p.m. with the Pastor Vincent Iorio officiating. Burial will be in the Mount Pleasant Cemetery.
Memorials may be made in Jean's name to the East Shelby Volunteer Fire Department, 5021 E Shelby Rd, Medina, NY 14103 or to Medina Memorial Hospital/North Wing, 200 Ohio St. Medina, NY 14103.
Please light a candle or share a memory of Jean at: www.bogantuttlefunerals.com.