Janet Marie Southcott (nee Smith)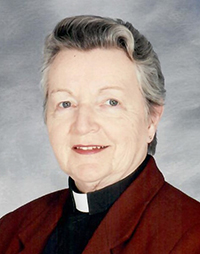 Janet Marie Southcott (nee Smith), 86, passed away peacefully on Nov. 9, 2020 at Orchard Rehabilitation and Nursing Center in Medina, NY. She was born April 14, 1934 to George H. and Mildred (nee Crowell) Smith in Rochester, NY.
Jan graduated from Rochester's John Marshall high school in 1952, where her love for the written and spoken word was exercised in many extracurricular activities including editor of the school paper. She married James A. Southcott in September of 1954 and together they had six children. Jan later attended the State University of New York at Brockport. A position as Director of Christian Education at the United Methodist Church in Medina turned her heart to ministry and she went on to earn a Masters of Divinity.
Jan became a licensed pastor in January 1982 and a full-time associate pastor in June 1987. Jan served the Methodist churches at Albion, Delavan, Wyoming, Lockport Emanuel and Little Valley.  She retired in July 1999.  In retirement she served the Elba church in 2004 and the Holley church in 2008.
Jan is predeceased by her siblings: George Smith Jr., Shirley Taccone, Richard Smith, Grace Mack, Wayne Watkins, and Marilyn Venette.
Jan is survived by her children: Peter (Patty), Michael (Barbara), Daniel (Mary), Joseph (Lisa), Roxane (David Roberts), and Adam (Lisa). She is survived by 18 grandchildren: David (Nicole), Daniel, Mark (Patty), Julia, Chelsea, Briana Dean, Benjamin, Devin, Christina Langill (Ray), Kimberly, Stacia Whitney (Jordon), Diona, Angela Roberts, Matthew (Kaitlyn), Joanna, James, Olivia and Jonathan, and 16 great-grandchildren.
The family will receive friends at The Grove United Methodist Church, 1104 West Center St. Ext. ,Medina, NY 14103, on Sat., Nov. 21, from 1-4 p.m., followed by her funeral service at 4 p.m.  Interment will be in Mt. Albion Cemetery.
Donations can be made to the Alzheimer's Foundation of America.  https://alzfdn.org/support-us/donate/
Jan was a friend of Bill W.
To share a special memory of Jan, please visit: mitchellfamilyfuneralhomes.com