Janet K. Meier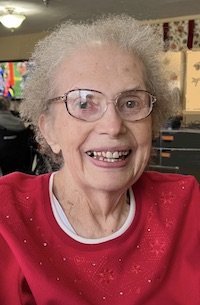 MEDINA – Janet K. Meier, 84, of Medina, passed away peacefully on Wednesday, December 28, 2022.
Born October 28, 1938 in Medina, she was the daughter of the late William and Lydia (Hellert) Knuth.
Janet graduated from Medina High School in 1957, and married the late P. Charles Meier on June 22, 1963. Together, they made their home in Medina and raised a family of four children.
Janet was a lifelong and faithful member of Trinity Lutheran Church in Medina, where she taught Sunday school, sang in the choir, and served on the altar and ladies guilds. A homemaker most of her life, Janet also worked in the Oak Orchard Elementary School cafeteria.
Janet's main focus in life was her loving family. In her later years, she was assisted by a team of dedicated personal care aides, especially Rosemary Eden, for whom her family will be eternally grateful. Janet will be fondly remembered as a devoted wife, mother, grandmother and friend.
Janet was preceded in death by her husband, P. Charles, on December 24, 2007; and her brother, Donald Knuth in 2000.
Left to cherish her memory are her four children, Ellen (Roger Calhoun) Meier, Charles J. (Elizabeth) Meier, Sharon (Bryan) Kleinhans and Andrew (Richard Sarrero) Meier; five grandchildren, Justin Calhoun, Madison (Michael Moody) Calhoun, Dayna Kleinhans, Katie Meier and Michael Kleinhans; sister in-law, Helen (Paul) Petit; and several nieces and nephews.
Calling hours will be held on Friday, January 6 from 11 a.m. to 1 p.m. at Trinity Lutheran Church, 1212 West Avenue, Medina, where her funeral service will immediately follow at 1 p.m. Interment will be in Mount Pleasant Cemetery. Arrangements are in the care of Cooper Funeral Home, 215 W. Center St., Medina. In lieu of flowers, memorials may be made to the Lee-Whedon Memorial Library, 620 West Ave., Medina, MAAC Food Pantry, or a charity of one's choice.
Share condolences at www.cooperfuneralhome.com.