James W. Moore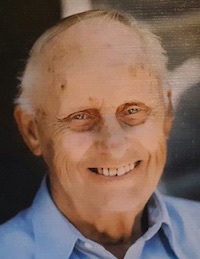 HULBERTON – James W. Moore, 86, of Hulberton passed away at home in the early morning hours of January 16, 2021 surrounded by his family. He was born in Stafford, NY on December 10, 1934 to William and Harriet (Barr) Moore and had resided in this area his entire life.
He is survived by his loving wife, Marian (Mower) whom he married October 30, 1954 and daughters Carol (Ray) Stern, Barbara (James) Passarell, and Gail (Stephen) Tipton. He was grandfather of 8: Heather, Kelly, Makayla, Matthew, Erica, Daniel, Lauren, Wesley, along with 6 great-grandchildren.
In addition to his parents, he was predeceased by a son, Bill; and siblings, Florence Hartman and Lewis.
Jim graduated from Holley High School in 1953 and then began a long career at Kodak, rising to the position of Assistant Building Superintendent before retiring in 1986. During his time at Kodak, he completed studies at the Rochester Institute of Technology. In his second career, he owned heavy equipment and performed excavation work throughout Orleans County. Jim never stopped working, repairing small engines into his 80s.
Aside from his family, Jim's proudest accomplishment was serving nearly 60 years with the Fancher-Hulberton-Murray Fire Company, including as Chief in the late 1970s. Still, he always found time to help his parents and in-laws while taking care of his family and working different shifts at Kodak.
For more than 30 years he and Marian enjoyed wintering in Florida, first near Tampa and then in Avon Park. They traveled the United States and, in younger years, took his family on yearly vacations. Jim will be remembered as the patriarch of the Moore family and we will miss his optimism, spirit, and presence in our lives. He had an infectious smile and a determined nature that he exhibited until his final day.
Most importantly, he believed in the Lord Jesus Christ and was a member of Harvest Christian Church in Albion. His was a life well-lived.
Services for Jim will be held at the convenience of the family. Contributions in Jim's name may be made to the Fancher-Hulberton-Murray Fire Company, 3353 Hulberton Rd., Fancher NY 14452 or Harvest Christian Fellowship, 560 E. Ave. Albion NY 14411.
Arrangements have been entrusted to the Christopher Mitchell Funeral Homes, Inc. Holley. To share a special memory of Jim visit www.mitchellfamilyfuneralhomes.com.