James F. Ruppel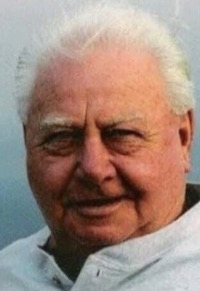 GASPORT – James F. Ruppel, 84, died peacefully September 25, 2020 in Niagara Hospice surrounded by his family and following a brief illness. He was born February 3,1936 in Lockport and was a life-long resident of this area.
Jim was a United States Veteran of the Korean War, and worked on the family farm prior to becoming a Steel Worker at Simonds Saw and Steel. He ultimately retired from the Town of Royalton.  Jim was a 30-plus year member of the Gasport Chemical Hose Company, was an avid outdoorsman, and enjoyed many things including: camping, traveling, gambling, all kinds of music and classic cars. He was also a devoted Notre Dame fan. Above all, Jim was a family man and his grandchildren were everything to him.
Mr. Ruppel was predeceased by his wife of 64 years, Betty; sons: Jeffrey Lynn Ruppel and Daniel James Ruppel; and all his siblings.
He is survived by his daughters, Susan (Ted) Cloy and JoAnne (Matt) Ruppel-Frawley; grandchildren, Erin Marie Ruppel, Lynnell (Eric) Schreiber, Stephanie (Cody) Mangalsingh, Daniel (Lauren) Ruppel II, Jonathan Ruppel, Donald (Haylee) Cloy II and Vandra Ruppel; great-grandchildren, Lacey and Connor Schreiber, Cecilia Urena, Grant and Arianna Mangalsingh, Aubrey and Paytinn Cloy, Zoey and Carter Ruppel; several nieces and nephews as well as close friends, Mike and Mary Farina and Lou and Donna Reale.
The family will receive friends at the Sherrie Bream Funeral Home, 4521 Main Street-Gasport, on Wednesday from 4-7 pm. Family and friends are invited to attend Jim's Mass of Christian Burial on Thursday at 11 a.m. in St. Stephen's Church, 19 Vernon St., Middleport. Interment will follow with Military Honors in Cold Springs Cemetery. In lieu of flowers memorials may be made to Niagara Hospice, 4675 Sunset Dr., Lockport, NY, 14094.
To share a special memory of Jim, please visit: www.mitchellfamilyfuneralhomes.com.  "GO IRISH!"