James Eugene Jett Sr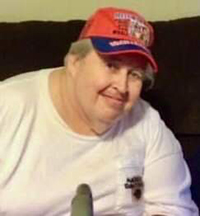 James Eugene Jett Sr., 75, passed away on Friday, September 24, 2021 surrounded by the love of his family.
James was born in Parkersburg, WV on June 1, 1946 to the late John D. and Glenna M. Jett. He was the husband of the late Ardith Jett until her passing in February 2021. He worked for Flower City Tissue Mills for over 40 years, and operated a water hauling business in Kendall, NY.
He is predeceased by his beloved wife, Ardith, and his siblings, Harold, Rick, Shirley, and Rose.
He is survived by his children, James (Imelda) Jett Jr., Timothy (Kelly) Jett, Wendy (David) Haralambou, and Kristy Jett, his siblings, John D. Jett, Edward Jett, and Sue Fearing, his seven grandchildren, and six great-grandchildren, and numerous nieces, nephews, cousins, and friends.
Calling hours held on Tuesday, September 28, 2021 at New Comer Cremations & Funerals, 2636 Ridgeway Ave., Rochester, NY from 10am-12pm, with a service to immediately follow. Burial will be at Sandy Creek Cemetery.