James Caldwell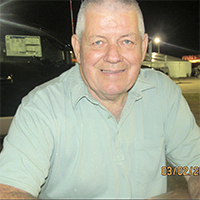 James Caldwell, 77, of Port St. Lucie, Fla., passed away suddenly on April 20, 2022 at home.  Jim was born on July 13, 1944 to Lyle and Dorothy (Murphy) Caldwell.  After losing his parents at a young age he was adopted by his grandparents, William and Emma Caldwell. 
He attended school in Lyndonville NY.  He then joined the National Guard.  He worked at Dohler Jarvis in Batavia, NY for several years before moving out of state and eventually making his forever home in Florida.  This is where he met his wife,  the late Mitzi (Munden) Caldwell.  He worked in the home improvement field.  A trait he passed on to his grandson, Matt Caldwell.
He is survived by his children: Lisa Prentice and children  (Matthew, Desiree' & Bethany) Jacquie Knight and children (Drew, Colin, Chandler & Emily), Deanna Starmer and children (Scott, Ryan & Austin), Pamela Horsley and children (Nicholas, Amanda & Carrie Ann); stepson, Tony Jackson; 12 great-grandchildren with one on the way; siblings: Jean (Garry) Leverenz, Kathy Keenan, Bobbi (Sam) Watts and Jacqueline (Dee) Eldeski; along with several nieces and nephews; very dear cousin, Lee Caldwell. 
He enjoyed golfing in the warm weather, Facebooking his kids and grandkids, and attending his church.
A memorial service will be held May 7 at 1 p.m. at Treasure Coast Victory Center, 3212 US-1, Fort Pierce, FL 34982.
"Goodbyes are only for those who love with their eyes. Because for those who love with heart and soul there is no such thing as separation" – Rumi