James A. Lawson, Jr.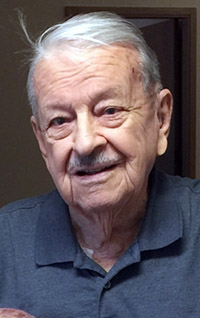 James A. Lawson, Jr., 92, entered into rest at the Hildebrandt Hospice Center in Rochester on Thu., Feb. 3, 2022.
A son of the late James A. "Ted" and Monica (Henderson) Lawson, Jim was born on Aug. 23, 1929 in Niagara Falls, NY. He graduated from Niagara Falls High School in the class of 1946. At the young age of 17 he enlisted in the U.S. Marine Corps and served from 1946-1950. Jim started his career at the Schoellkopf Power Station in Niagara Falls. He went on to work for Niagara Mohawk for 35 years, retiring in 1988. A social person, Jim was a proud member of the Junior Wilson Sportsman's Club and Butts-Clark Post #204, American Legion in Medina. He loved his dogs and enjoyed taking care of his birds. Jim especially enjoyed spending time up at the lake with family and friends.
In addition to his parents, Jim was preceded in death by his former wife, Janet Bowman and his brother, William Lawson.
Left to cherish his memory are his son, James (Sherry) Lawson, III of Medina; dear friend and "adopted daughter", Melody Parker, who took great care of Jim in his final years; sister in-law, Norma Lawson; niece, Sally (John) MacIntyre; nephew, Joseph Lawson; and many great-nieces and nephews.
Calling hours will be held on Wed., Feb. 9 from 4-7 p.m. at Cooper Funeral Home, 215 W. Center St., Medina, where his funeral service will be held the next morning on Thu., Feb. 10 at 11 a.m. with full military honors. Masks will be mandatory. Interment will be in Boxwood Cemetery, Medina.
In lieu of flowers, memorial donations may be made to Supportive Care of Orleans, 14080 Rt. 31 West, Albion, NY 14411.
Share condolences at www.cooperfuneralhome.com