Jack H. Bellack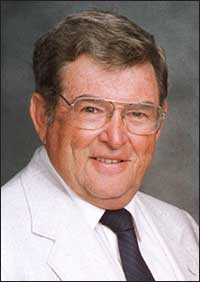 Jack H. Bellack, 93, of Medina, passed away on Fri., Oct. 4, 2019 at the Martin-Linsin Hospice Residence in Albion.
Born March 1, 1926 in Newberry, Mich., Jack was a son of the late Harry and Lillian (Slabodkin) Bellack. He worked in his family's general store in Newberry from an early age. Sadly, his mother passed away when he was seven, and his father remarried his stepmother, Ida. He graduated from Newberry High School in 1943 and went on to graduate from Michigan Tech. While attending college, Jack was called to serve his country in World War II in 1944. He served in the U.S. Army infantry from 1944 to 1946 in the European Theater. He fought in the Battle of the Bulge, where he sustained shrapnel injuries and frostbite injuries to his feet. Jack received two Purple Hearts for his brave service to the nation. Upon returning home, he continued his studies at Michigan Tech and graduated with a Bachelor of Science degree in electrical engineering in 1949. While at college, he met and married the love of his life, the former Gloria "Mitzi" Kernanen, on June 18, 1948. For most of his engineering career, he worked at the Cleveland Electric Illuminating Co. in Cleveland, Ohio, retiring in 1987. He received his master's degree in engineering administration in 1963 from Case Western Reserve University. Upon retirement, he and his wife, Mitzi, moved to North Carolina. They loved to travel and went on many cruises throughout the world, and they were also avid skiers. Jack was active in the IEEE, a professional engineering organization, for which he served as chairman of the Cleveland section. Among other pleasures, Jack enjoyed golfing, bowling, skiing, playing bridge, reading, and listening to classical music.
He is survived by his beloved wife, Gloria "Mitzi" Bellack; daughter, Deb (Michael) Flaugher; and son, Dean (Carol) Bellack. He was the cherished grandfather of Shawn (Jennifer) Flaugher, Joe (Laura) Flaugher, Adam Bellack and Aleena (Rob) Emerson; and the adored great-grandfather of Conor, Cullen and Ceiren Flaugher, Mila, Fiona and Anna Flaugher, and Cameron Emerson. He is also survived by his brother, Phil (late Carol) Bellack; many nieces, nephews, relatives and friends.
Besides his parents, he was predeceased by his daughter, Andrea Kinney; brothers, Ervin and Simon Bellack; and sister, Esther Bellack.
Calling hours will be held on Sun., Oct. 13 from 3 to 6 p.m. at Cooper Funeral Home, 215 W. Center St., Medina. A memorial service will be held on Mon., Oct. 14 at 10:30 a.m. at The Grove United Methodist Church, 11004 W. Center St., Medina. Military honors will be accorded at the church. Interment will be held at a later date in his family plot in Elo, Mich.
In lieu of flowers, memorial donations may be made to Alzheimer's Association; or to research for a cure for macular degeneration; or to Hospice of Orleans, P.O. Box 489, Albion NY 14411; or to United Way of Orleans County, P.O. Box 468, Albion NY 14411.
Please share condolences at www.cooperfuneralhome.com.