Isabel M. McCollister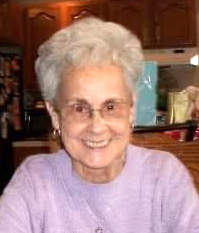 Isabel M. McCollister, passed away peacefully surrounded by her family on March 17, 2021. She was born in Medina, NY on Nov. 12, 1931 to the late Harry and Esther (Rowley) Hungerford.
Izzy was a 1950 graduate of Medina High School. One year later, on July 28, 1951, Isabel and John McCollister were married. They had four children and shared 55 wonderful years together. She especially loved canning, sewing, and cooking for her family. Izzy also enjoyed watching sports, particularly hockey and baseball.
Loving mother of John (Marlene) McCollister, James McCollister, Mary (Thomas) Walders, Michele (Douglas) Heiderman; loving grandmother of: James (Brittney), John (Jaqueline), Holly (Matthew), Kyle (Tiffany), Shannon (Eric), Jennifer, Erin (Nicholas), Robert, Elizabeth (Jim), Thomas, Bradeen (Sebastian), Joseph (Hannah), Ashley (Robert), Kathryn (Seth), Gregory (Kylee). She is also survived by 21 great- grandchildren; a brother, Calvin Hungerford; a sister, Reevlyn Quiett, and several nieces and nephews. Isabel is predeceased by her husband, John (Jack) McCollister, her parents, and siblings (Mary Alice, Earl, Eugene, and Maxine).
Friends and relatives may call on Fri., March 19 from 3-8 p.m. at Ross Funeral Home of Akron, LLC. Services will be private. Burial at Evergreen Lawn Cemetery. In lieu of flowers, donations may be made to Supportive Care of Orleans County. To share memories and condolences with Izzy's family, please visit: rossakron.com