Inez S. Drake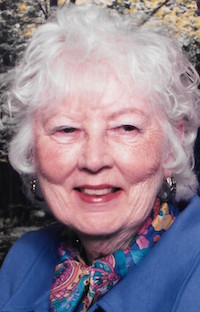 Inez Somerville Drake (McNaughton), 98, of Niagara Falls, NY, passed away on February 25, 2021 at Mount St. Mary's Hospital in Lewiston, NY. She was born in Young's Point, Ontario, Canada, a daughter of the late James Wilbert and Alma (Godfrey) McNaughton.
Inez moved to Niagara Falls, Ontario at a young age with her family. She graduated from Niagara Falls Collegiate Vocational Institute with a concentration in Secretarial skills. She was a member of Beta Sigma Psi Sorority. After graduation, she was secretary for Mr. Heil, president of International Cooperage. In 1947, she married David H. Drake, Jr. Mr. Drake predeceased her in 2005. Residing in Niagara Falls, NY, she raised a family while active in the Parent Educational Group at Maple Avenue School and was the President of the DeVeaux Mother's Club. She was also Den Mother to an unruly group of Cub Scouts.
Inez worked for a number of years as a medical secretary for Dr. William Niesen, urologist. She was active in St. Peter's Episcopal Church and held many roles, including usher, Vestry Member and President of Phillip Wheeler Mosher Guild. At Niagara Falls Memorial Medical Center, she was a member of the Auxiliary serving as a Grey Lady and Chairperson of Records and Hospitality. She enjoyed the educational and social aspects of the Tatler Club.
Mrs. Drake is survived by her two sons, Martin (Kathy) Drake and David Drake, III. She is also survived by several nieces and nephews, and is the Godmother to Caroline Inez Reilly (Richard).  In addition to her husband of 58 years, she was predeceased by her brothers, Stewart, Donald, Douglas and Roger, and her sisters, Eva (Harvey), Ruby (Henry), Olive (O'Grady) and Jean (O'Callaghan).
Due to current circumstances, there will be no prior visitation. A celebration of her life will be held at a future date to be announced. In lieu of flowers, memorial offerings may be made to Niagara Falls Memorial Medical Center, St. Peter's Episcopal Church, the Niagara County Community College Foundation, or to your local SPCA.  Arrangements by M.J. Colucci & Son Niagara Funeral Chapel. Visit mjcoluccifuneralchapel.com for online condolences.