Gerald L. "Jerry" Shawver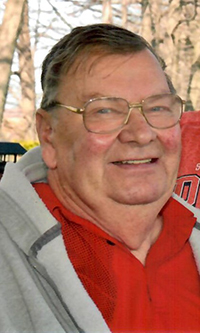 ALBION – Gerald "Jerry" Shawver, loving husband, father, father-in-law and grandfather passed away on Sunday Dec. 6, 2020 at Unity Hospital.  He was born Aug. 22, 1941, a son of the late Marlin and Virginia (Spacht) Shawver.
He grew up loving all things mechanical.  Jerry eventually enlisted in the Army, but not before marrying Carolyn Miles.  They raised a son and daughter, Grant and Dawn.
Jerry loved all types of Motorsports, his passion was drag racing.  He and Carolyn spent many weekends over the years pursuing that passion at New York International Raceway Park where he would race his 1974, 10 second pinto.  He also loved spending time at his parent's house in the earlier days, "wrenching" on something with his brothers.  In later years, just sitting on the porch talking about all the things the "Shawver boys" used to do.
In addition to his parents, he was predeceased by his wife Carolyn; his brothers Randy, Don, Glenn; sister Eva Klafehn.  He is survived by his son Grant (Cindy) Shawver; his daughter Dawn (Mary) Shawver-Guzik; grandson Garrison Shawver; brother Frank (Shirley) Shawver; his little squirt India, as well as several nieces, nephews and cousins.
His Graveside Service with Military Honors will be Thu., Dec. 10 at 1 p.m. at Mt. Albion Cemetery.  Memorials may be made to the National Kidney Foundation.  Arrangements have been entrusted to the Christopher Mitchell Funeral Homes, Inc. Albion.  To share a special memory of Jerry, please visit www.mitchellfamilyfuneralhomes.com
New York State requires those in attendance to adhere to the social distancing guidelines and face coverings are mandatory.