George Ivan Strickland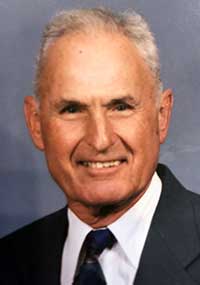 George Ivan Strickland, 100, of Waterport, died Dec. 16, 2019 in Orchard Manor Nursing Home following a brief illness. He was born Aug. 5, 1919 in the Town of Gaines and was a lifelong resident of this area.
Ivan was a graduate of Albion High School, class of 1937, and ran the family farm until going to work for Harrison Radiator. Upon retiring from General Motors, he went back to full-time farming. Ivan was a member of Carlton United Methodist Church and a former member of the FFA. He was a very social person who kept a daily journal of his daily activities. Ivan enjoyed family gatherings and playing cards, but mostly he loved farming.
Mr. Strickland was predeceased by his wife, Dorothy Louise (Waters); as well as four brothers and one sister.
He is survived by his son, Curt (Linda) Strickland of Albion; his daughter, Yvonne (John) Follman of Waterport; 12 grandchildren; 21 great-grandchildren; as well as several nieces and nephews.
There will be no calling hours. Ivan's services and interment will be announced at a later date.
In lieu of flowers, memorials may be made to Carlton United Methodist Church, 1196 Archbald Road, Waterport NY 14571.
Ivan's arrangements have been entrusted to Christopher Mitchell Funeral Homes, Inc. of Albion. To share a special memory of Ivan, please visit www.mitchellfamilyfuneralhomes.com.