Frederick P. Smith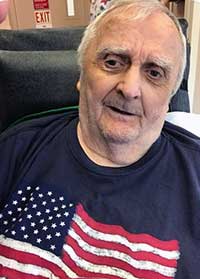 Frederick "Freddy" "Blue Eyes" Smith, 89, of Kenyonville, died Jan. 12, 2020 at the Batavia VA Medical Center. He was born Aug. 23, 1930 in Blossburg, Pa., a son of the late Samuel Henry and Cecelia (Nowalk) Smith, and he lived in this area for most of his life.
Freddy served in the U.S. Army during the Korean War. He loved the outdoors and enjoyed fishing, hunting and trapping. He also loved playing euchre and listening to music, and he was a very good dancer. One of his favorite dances was the jitterbug, which he enjoyed with his wife, Betty. Another was the twist, which he danced to with his sister-in-law; they won many awards.
In addition to his parents, he was predeceased by his loving wife, Betty; his daughters, Bonnie Jean Smith and Brenda Emanuello; and his son, Samuel Smith.
He is survived by his daughters, Barbara (Darryl) Mifflin, Katherine Dix and Margie "Maggie" Fletcher; 13 grandchildren; 23 great-grandchildren; six great-great-grandchildren; sisters, Shirley and Beverly; brother, Samuel; as well as many nieces, nephews and cousins.
There will be no calling hours. An intimate memorial service will be held at Kenyonville Cemetery on Sat., Jan. 18 at 2 p.m., followed by his military honors.
In lieu of flowers, memorials may be made to the Batavia VA Medical Center, 222 Richmond Ave., Batavia NY 14020.
Arrangements have been entrusted to Christopher Mitchell Funeral Homes, Inc., Albion. To share a special memory of Freddy, please visit www.mitchellfamilyfuneralhomes.com.