Frank J. Lauta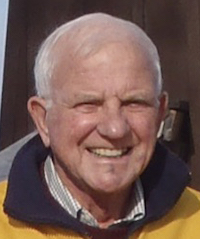 KENT –Frank J. Lauta left this world to be with his beloved daughter, Katie, on the evening of Thursday, October 19, 2023 at the age of 89. Frank was born on a dairy farm in Elkhorn Wisconsin on April 1, 1934. He grew up on the farm, one of eight children, then went to college on a Navy scholarship and earned a bachelor's and master's degree in metallurgical engineering. After college he married Dorothy Paynter and served 3 years active duty in the Navy. Frank and Dorothy had four children: Katie (deceased), Maggie, David, and Andy. Frank worked as a metallurgist at U.S. Steel, Rochester Products, FMC, and eventually ran the Lindberg Heat Treating plant for many years. Frank married Jeanne Eismont in 1986, and they built the house on a hill above Lake Ontario in Kent, NY where they lived until Frank's death. Frank was a member of the Metallurgical Society of America, Kendall Chorus, Oak Orchard Neighborhood Association, and Lions Club. He also served as a Eucharistic Minister and Lector at his church.
Frank was diagnosed with pancreatic cancer in 2022 and finally succumbed to the insidious disease. He is survived by his wife Jeanne, and his children Maggie, David (and wife Antigoni), and Andy (and wife Amy), and his four grandchildren Jett (and his wife Caitlin), Dylan, Francesca, and Erik, and great-granddaughter Sutton. He is also survived by his sister-in-law Beverley Daubney (and husband William), sister-in-law June Althoff, and brother-in-law Jim Mahlberg as well as many nieces and nephews.
A mass to celebrate Frank's life will be held at Saint Elizabeth Ann Seton church at 3747 Brick Schoolhouse Road, Hamlin, NY 14464 on Saturday October 28 at 11am. The service will be preceded by calling hours with the family starting at 9:30am and followed afterwards with a buffet brunch.