Eugene R. Schwarzott Jr.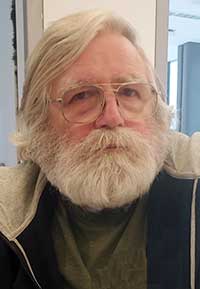 Eugene R. "Gene" Schwarzott Jr., of Medina, passed away on Wed., March 11, 2020 at Buffalo General Hospital after a short illness.
Born on May 19, 1950 in Medina, he was the son of the late Eugene R. and Delores (Livingston) Schwarzott Sr.
Gene worked for three years with the Ogan Kidney Saw Mill while he attended and graduated from Lyndonville High School. He enlisted in the U.S. Navy in 1970 during the Vietnam War, serving on the USS Coral Sea as a Fuelman. Upon returning home, he married the former Marilyn Kidney on Aug. 3, 1974, and together they raised three children. Gene worked at Harrison Radiator for 30 years and retired in 2005. Gene enjoyed NASCAR truck racing and, along with his wife and family, attended several races at Watkins Glen. He also enjoyed hunting, camping, and spending time with his family, especially with his grandchildren. At night, Gene would be seen relaxing in front of the TV with his faithful companion, Hunter, on his lap.
Gene is survived by his wife of 46 years, Marilyn; children, Karen (Bob) Smith of Kent, Kellie (Randy) Wilcox of Medina, and Stacy Schwarzott of Medina; grandchildren, Cole Wilcox, Anthony Brown, Evan Wilcox, Avery Wilcox, Abigail Brown and Kyleigh Wilcox; siblings, Richard Schwarzott of Medina, Michael Schwarzott of Charleston, S.C., and Linda Thuman of Medina; and several nieces and nephews.
Besides his parents, Gene is predeceased by a brother-in-law, Albert Kidney; and a grandson, Aydin McConnell.
Relatives and friends may call on Sun., March 15 from 1 to 3 p.m. at Bogan & Tuttle Funeral Home, 226 Pearl St., Medina NY 14103, where a funeral service will be held on Mon., March 16 at 11 a.m. Burial will be in Bates Road Cemetery, Medina, with full military honors being accorded by members of Butts-Clark American Legion Post #204 and VFW Lincoln Post #1483.
In lieu of flowers, memorials may be made in Gene's name to Orleans County Joint Veterans Council, 13996 Rt. 31, Albion NY 14411.
Please light a candle or share a memory of Gene at www.bogantuttlefunerals.com.