Emily M. Stalker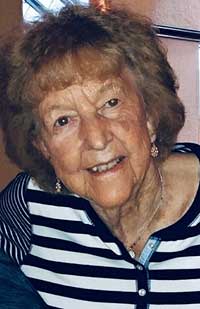 Emily M. Stalker, 86, of Medina, entered into rest peacefully with her family at her side on Mon., June 24, 2019 at Medina Memorial Hospital. She was born June 5, 1933, a daughter of the late Florian and Cecelia (Bialas) Sledzik.
She graduated from Medina High School in the class of 1951. On May 29, 1954, she married Glenn A. Stalker. Emily worked for the R.H. Newell Shirt Factory from 1951 to 1956 and was employed as a secretary for the Medina Central School District from 1969 to 1995. Emily was a lifelong active member of the former Sacred Heart of Jesus R.C. Church and Holy Trinity Catholic Parish, St. Mary's Church in Medina. She was a member of the Mother's Club, the Rosary Society, the choir and the bereavement committee, and she also served as a Eucharistic minister. An active member of the community, she volunteered through TWIG and was a member of the Red Hat Society, Busy Buddies, Senior Citizens of Western Orleans and Johnson's Creek Senior Citizens Club. She enjoyed playing cards and taking trips to the casino. Emily was a loving wife, sister, mother, grandmother, great-grandmother and friend. Her kind smile and gracious presence will be missed by all.
Beside her parents, she is predeceased by her grandson, Sgt. Trevor T. Cook, USMC, on July 6, 2011; sister, Dorothy Sledzik in 1940; and brother, Bernard Sledzik in 1995.
She is survived by her loving husband of 65 years, Glenn A. Stalker; her sister, Barbara Keirn; three daughters, Lorie (Bob) Gilligan, Carol (David) Cook and Christine Barone; five grandchildren, Lisa Marciniak, Jessica (Pete) Balcer, Chelsea Cook, Andrea (Joe) Baldi and Alyssa Barone; four great-grandchildren, Keirha Marciniak, Morgan Balcer, Joseph Baldi and Renzo Baldi; and several nieces and nephews.
Calling hours will be held on Thu., June 27 from 4 to 7 p.m. at Cooper Funeral Home, 215 W. Center St., Medina. Her Mass of Christian Burial will be celebrated on Fri., June 28 at 11 a.m. at Holy Trinity Parish, St. Mary's Church, Medina. Burial will be in Sacred Heart Cemetery at a future date.
Memorial donations in Emily's memory may be made to Knights-Kaderli Memorial Fund, P.O. Box 684, Medina NY 14103.
Please share memories and condolences at www.cooperfuneralhome.com.