Ella May Gex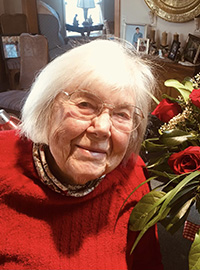 ELBA – Ella May Gex, 99, died Dec. 27, 2020 in the New York State Veterans Home of Batavia following a brief illness.  She was born May 30, 1921 in Detroit, Mich. to Elbert and Ludmilla (VonSchneidewind) Burris, and had lived in this area since 1990.
Ella was Veteran of the U.S. Army and United States Navy, having served in the Philippines during WWII as a nurse.  Ella enjoyed the arts, especially the Genesee Chorale and the Genesee Symphony Orchestra.  She enjoyed volunteering at the Richmond Library, and swimming with her friends at the YMCA.  As a young widow, Ella managed to get her children through college and grad school while at the same time teaching them about how to navigate life challenges along the way.  She will be remembered as an excellent provider for her family and also for providing random acts of kindness.
Mrs. Gex was predeceased by her husband, Donald and brother, Elton Burris.  She is survived by her son, Bill (Judy Anderson) Gex of Pa.; her daughter: Fran (Norm) Woodworth of Elba; 4 grandchildren: Neil, Ian, Don, Ryan; as well as several nieces, nephews, great-nieces and great-nephews.
There will be no prior calling hours.  A Celebration of Ella's Life will be held at a later date and will be announced at that time.  In lieu of flowers, memorials may be made to the Elba Presbyterian Church, 23 N. Main St., Elba, NY 14058.  Ella's arrangements have been entrusted to the Christopher Mitchell Funeral Homes, Inc. of Albion.
To share a special memory of Ella, please visit: www.mitchellfamilyfuneralhomes.com