Elizabeth M. Bateman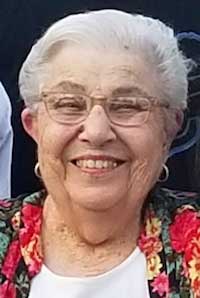 Elizabeth M. "Liz" Bateman, 90, of Middleport, passed away on Jan. 16, 2020. She was born Oct. 18, 1929 in Hartland to the late George and Marion (Holler) Coulson.
She graduated from Roy-Hart schools in 1948 and then married Ray Bateman in December 1950. They spent 50 loving years together.
Liz was very active in many organizations throughout her life. She was a member of American Legion Auxiliary Clute-Phillips Unit 938, Zion Lutheran Church in Gasport, and the WELCA group at the church. Liz was also a Middleport village trustee for many years and a leader with the Girl Scouts. She and her late husband, Ray, used to spend the winters in Florida and also went on many mission trips to Grenada. She was an LPN at various establishments in the area and volunteered with Tri-Town Ambulance. She enjoyed being involved in local senior citizens groups in addition to quilting, solving puzzles, and attending sporting events and activities that her grandchildren and great-grandchildren were involved in. Liz was a resident at The Willows in Medina for the past two years and was known as the "social butterfly," making friends with everyone there. She loved her family and friends dearly.
In addition to her parents, she was predeceased by her husband, Ray Bateman; daughter, Joyce M. Bateman; sister, Linda Nicholas; and granddaughter, Jennifer Ulrich.
Elizabeth is survived by her daughter, Marty (Tom) Ulrich; grandchildren, Jeffrey (Kelly) Ulrich and Julie (Barry) Webber; great-grandchildren, Colleen Ulrich, Christopher Ulrich and Jackson Webber; as well as several nieces, nephews and cousins.
The family will receive friends on Mon., Jan. 20 from 4 to 7 p.m. at Bates, Wallace & Heath Funeral Home, 38 State St., Middleport NY 14105, where a brief memorial service will follow at 7 p.m. led by American Legion Auxiliary Clute-Phillips Unit 938. Elizabeth's funeral service will be held at Zion Lutheran Church, 4447 Central Ave., Gasport NY 14067, on Tue., Jan. 21 at 11 a.m. Interment will be in Huskey Cemetery.
Memorial contributions in Liz's name may be made to the church.
To share a special memory of Liz, please visit www.mitchellfamilyfuneralhomes.com.