Elizabeth A. "Liz" Cloy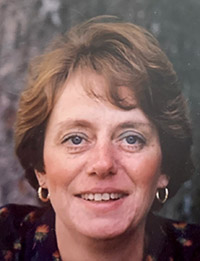 Elizabeth A. "Liz" Cloy, 62, of Middleport died in her home following a long illness on Jan. 18, 2022 surrounded by her family. 
She was born Nov. 27, 1959 in Lockport to Richard and Lela (Eckhardt) Arlington and was a life-long resident of this area.  Liz had worked as a server at the former Basket Factory Restaurant and then in later years at Lockport Savings Bank in Medina.  She was a member of the Middleport United Methodist Church, enjoyed painting, reading, doing puzzles, taking walks and baking cookies with her granddaughter.  
Mrs. Cloy was predeceased by her husband, Kevin. 
She is survived by her son, Glen Sager and granddaughter, Skigh of Middleport; parents: Lela and William Lathrop of Lockport; brother, Scott (Deborah) Arlington niece, Brittany Shepard of Fla.; good friend, Betty Hoste and her beloved dog, Lily. 
There will be no calling hours. Family and friends are invited to attend her memorial service Sat., Jan. 22 at 11 a.m. in the Middleport United Methodist Church, 9 Park Ave., Middleport, NY 14105.  Interment will be held at the convenience of the family. 
In lieu of flowers memorials may be made to Niagara Hospice, 4675 Sunset Dr., Lockport, NY 14094.  
Liz's arrangements have been entrusted to the Bates, Wallace & Heath Funeral Home of Middleport. 
To share a special memory of Liz, please visit: www.mitchellfamilyfuneralhomes.com