Eliiagh Edgar "Cornbread" Mims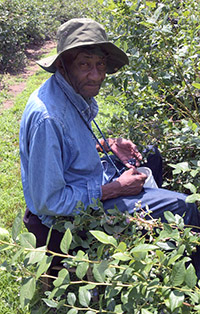 Eliiagh Edgar "Cornbread" Mims, 74, passed away on Tue., Dec. 21, 2021 at the Medina Memorial Hospital.
He was born on March 31, 1947 in Thompson, Alabama, the son of the late Eliagh Mims and Bernice Baker.
Cornbread worked at Batavia Medical, Angelica, both of Batavia, NY and recently worked as a farm hand in the Lyndonville area. He loved to play baseball, tell jokes and to have fun.
Besides his parents, he is predeceased by a brother, Oscar Mims; and sisters: Barbara and Poshie Mims.
Cornbread is survived by his loving son, Eliagh Eugene Mims Jr.; 11 grandchildren; several great-grandchildren; siblings: Sammie, John Henry, Terry, Doris and Reba and a host of nieces and nephews and friends. Also surviving is his loving companion and mother of his son, Betty Parks.
There are no calling hours. A private service will be held at the convenience of the family.
Arrangements were entrusted to the Bogan & Tuttle Funeral Home, 226 Pearl St., Medina, NY 14103.
Please light a candle or share a memory of Cornbread at: www.bogantuttlefunerals.com