Eleanor B. Whipple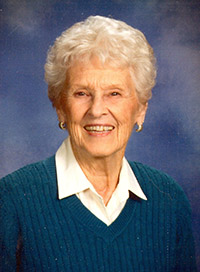 Eleanor B. Whipple passed away on Sun., Oct. 10, 2021 at Supportive Care of Orleans at the age of 97.
Born on Dec. 10, 1923 in Massachusetts, she was the daughter of the late Bernard Holbrook Bailey and Beatrice Eleanor Phinney.
Eleanor's education began at Islington Grammar School from 1929 to 1939, then she attended Dedham High School MA and from 1937 to 1941 she attended college at Oberlin in Ohio.  She married the late Robert Whipple and together they raised four children. She continued her education at SUNY of Brockport and in 1963 she earned her Bachelor's Degree in Elementary Education.  Eleanor then went on to teach 5th grade at Lyndonville Elementary for a number of years.  Eleanor was a lifelong member of the Lyndonville United Methodist and at one time was a Sunday School Teacher.  Eleanor took pride in her community by volunteering as a Twig at the Medina Memorial Hospital for many years and also was a member of the board at Hospice, serving as Secretary and was on the board of the Lyndonville Area Foundation. She also volunteered on the ARC Endowment Committee. In her spare time, she enjoyed gardening, reading, bowling, and crafting quilts and wall hangings. She was an avid walker and could be seen walking around Lyndonville on almost a daily basis.
Eleanor is survived by her four children: Marsha Nitzsche, John (Brenda) Whipple, Julia Watts Bacon, and Laura (John) Belson. Also surviving are 14 grandchildren and 28 great-grandchildren.
Besides her parents and husband, she is predeceased by her siblings: Bernard H. Bailey Jr. and Katherine Johnson; and her dear friend, Frank Housel.
There are no calling hours. A memorial service will be held at 2 p.m. on Sat., Oct. 16, 2021 at the Lyndonville United Methodist Church, 102 N. Main St., Lyndonville,  NY 14098.
In lieu of flowers, memorials may be made in Eleanor's name to: Hospice of Orleans, P.O. Box 489, Albion, NY 14411; or to PAWS, P.O. Box 244, Albion, NY 14411 or to Lyndonville United Methodist Church.
Arrangements were entrusted to the Bogan & Tuttle Funeral Home, 112 N. Main St., Lyndonville, NY 14098.
Please light a candle or share a memory of Eleanor at: www.bogantuttlefunerals.com