Edward J. Elsenheimer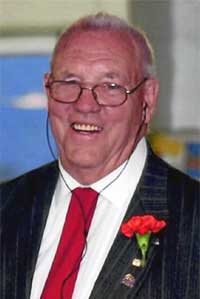 Edward J. Elsenheimer, 90, of Gasport, died July 2, 2020 at the Wells House at Beechwood in Buffalo. He was born Oct. 25, 1929 in Cohocton, N.Y., a son of the late Jesse and Florence (Gellien) Elsenheimer, and he lived in this area most of his life.
Ed graduated in 1949 from Wayland High School, where he played basketball and wrestled. He was a member of Covenant United Church of Christ in Gasport, and also St. Peter's United Church of Christ in Perkinsville, N.Y. He and his brothers owned and operated Elsenheimer & Kill Builders in Gasport from 1952 to 1978 and would sponsor the Yankees youth baseball team. Ed also sold Prudential life insurance and was the top seller for three consecutive years, winning trips that he and his wife, Evelyn, loved to take. He served as councilman for two terms for the Town of Royalton, and he was head of the Gasport Chamber of Commerce, organizing the winter carnival. He was a very active member of the Order of the Eastern Star #153 and the Gasport Lodge #787 F.&A.M., helping with their fly-in breakfasts.
In addition to his parents, he was predeceased by his brothers, Robert and Harold; and his sisters, Bonita and Dorothy.
He is survived by his loving wife of 69 years, Evelyn; his children, Irene Florence (Peter) Fadden of Walworth, N.Y., Shirley (Douglas) White of Buffalo, Rev. Dr. Theodore Edward (Rev. Dr. Nancy) Elsenheimer of West Columbia, S.C., and Donna (Rev. David) Mills of Silver Creek, N.Y.; grandchildren, Patti (Brian) Teeter, James Edward (Keri) Fadden, Dr. John Fadden, Charlotte Evelyn (Jonathan) Glosser, Carolyn Elise (Timothy) Spath, Cullen Douglas (Kathryn) White, Adam Wesley (Britt) White, Jessica (Matthew) Oberly, Dr. Kaitlyn Elsenheimer, Sara Wilder, Margaret (Zachary) Waite, and Steven Mills; 14 great-grandchildren; his brothers, Jesse Elsenheimer and Donald "Joe" (Eleanor) Elsenheimer; sister-in-law, Joyce Elsenheimer; as well as several nieces, nephews and cousins.
There are no prior calling hours. (Note change of service location.) His Masonic Service will be held on Saturday, Aug. 1, at 2:30 p.m. on the steps of the Covenant United Church of Christ, 4449 Main St. Gasport NY 14067.  A private, intimate family service will be held at 3 p.m. inside the church.
Memorials may be made to Church World Services, P.O. Box 968, Elkhart IN 46515.
Ed's arrangements have been entrusted to Sherrie-Bream Funeral Home, 4521 Main St., Gasport NY 14067. To share a special memory of Ed, please visit www.mitchellfamilyfuneralhomes.com.