Douglas Biart Campbell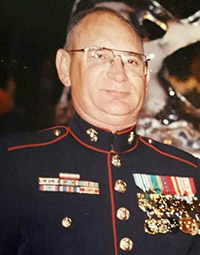 Douglas Biart Campbell, 74, of Bullhead City, Ariz. passed away Tue., Oct. 12, 2021. He was the son of the late Alva Alman Campbell and the late Dorothy Louise (Haines) Campbell.
Douglas was born in Rochester, NY on Oct. 15, 1946 and graduated from Albion High School in 1964. He subsequently graduated with a degree in Criminal Justice from the State University of New York at Brockport. Following in the steps of his paternal grandfather, Douglas enlisted into the U.S. Marine Corps in 1966. He retired after a 30-year career that included tours of duty in Vietnam, Korea, Somalia, Iraq and with the National Security Agency. Douglas also interned for Utah Senator Orrin Hatch. He received numerous service medals during his military career including a Purple Heart.
In 1997, Douglas settled in Bullhead City, Ariz. and enjoyed being a poker dealer in nearby Lauglin, NV. He was a life long member of the Albion Elks Lodge #1006. Douglas was an avid bowler, golfer and Barre Busters softball player. He also was a lifelong Buffalo Bills fan. 
Douglas is survived by his brothers: Bruce (Karen Quackenbush) of Waterport, NY, Scott (Patricia Del Favero) of Las Vegas, NV, and Wendell P. Campbell of Scottsdale, Ariz.; nieces and nephews: Bridgett, Kristin, Amanda, Andrew, Ericka, Shawn, Alexandra and Sebastian; close friends who were like family: David Kong and Sharon Zauner. He was predeceased by his brother Kevin of Jacksonville Beach, Fla. 
Douglas's family will be observing a Day of Remembrance in Albion, NY in the summer of 2022 followed by a burial in Honolulu, HI. Memorial donations to the Wounded Warrior Project, P.O. Box 758516, Topeka, KS 66675; or the USO World Headquarters, P.O. Box 96860, Washington, DC 20077 are welcomed.