Dorothy L. Batchellor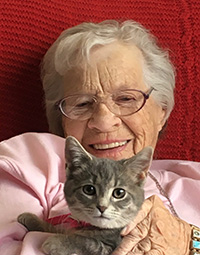 Dorothy L. Batchellor, 98, formerly of Oak Orchard Rd., died Dec. 2, 2020 in the New York State Veterans Home at Batavia following a brief illness.  She was born Dec. 7, 1921 in Albion to Clyde and Bernice (Grinnell) Marshall and was a lifelong resident of this area.
Dorothy served as a nurse in the Army Nurse Corps during WWII and spent many years of her life as an RN in Genesee and Orleans counties.  She was also a member of Holy Family Parish in Albion.
Mrs. Batchellor was predeceased by her husband, George; a daughter, Mary Lou; sister, Margaret Reed; and brothers: Richard, William and Robert Marshall.  She is survived by her children: John "Jack" (Debby) Batchellor of Albion, Ann (Tom) Palamara of Ala., Betsy (Norm) Philipps of Fla., a sister-in-law: Helen Batchellor of Stafford, 6 grandchildren, 11 great-grandchildren as well as several nieces and nephews.
There will be no calling hours.  A Memorial Mass will be held in Holy Family Parish at a later date and her burial in St. Joseph's Cemetery will be held privately at the convenience of the family.  In lieu of flowers, memorials may be made to Holy Family Parish, 106 S. Main St., Albion, NY 14411; Supportive Care of Orleans, P.O. Box 489, Albion, NY 14411; or American Cancer Society, 1120 S. Goodman St., Rochester, NY 14620.
Dorothy's arrangements have been entrusted to the Christopher Mitchell Funeral Homes, Inc. of Albion.  To share a special memory of Dorothy, please visit: www.mitchellfamilyfuneralhomes.com