Dorothy Cecelia Duvall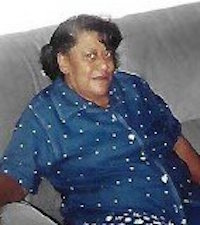 ALBION – Dorothy Cecelia Duvall, 93, of Albion passed away on Wednesday, August 18, 2021, at Strong Memorial Hospital in Rochester, New York. She was the daughter of the late Washington and Florence Hunter.
She grew up during the Great Depression and told stories about skipping school and going to the cemetery next to her home all day, hiding behind tombstones to stay hidden because she wanted to get a job to help the family.
Dorothy married Melvin Turner Duvall on June 28, 1946. Born to this union were two beautiful daughters: Gloria and Sharon.
Dorothy worked cleaning homes and as a dry cleaner presser in Rochester.
Dorothy enjoyed music; she was a self-taught pianist and organist. She loved playing for family, friends and in church. In addition, she loved singing hymns and listening to gospel music. Aside from her musical abilities, Dorothy loved to joke around and have fun.
Dorothy moved to Albion in February 2019 to be closer to her family. Before moving to Albion, she was a member of the Trinity Inter-Faith Church in Rochester.
She was predeceased by her husband, Melvin DuVall; daughter, Sharon DuVall; four brothers, Allen Hunter, William Hunter, Eugene Hunter and Donald Hunter; two sisters, Phyllis Moore and Ruth Cooper; one grandson, George Chambers, Jr.; and special friend; Herman Powell.
She leaves to cherish her memories, daughter, Gloria (Thaddeus) Nauden; three grandchildren, Sharon Chambers, Thaddeus Nauden, Jr. and Venita Nauden; two great-granddaughters, Justice and Andrea Nauden; two sisters-in-law, Mattie Hunter and Harriet Ponds; several nieces, nephews, cousins and friends.
The family will receive friends at the Christopher Mitchell Funeral Homes, Inc. 21 W. Ave. Albion on Wednesday, August 25th, from 10 a.m. to noon where her funeral service will be held at noon. Burial be in Carlton Cemetery. Memorials may be made to Supportive Care of Orleans, P.O. Box 489, Albion NY 14411.
To share a special memory of Dorothy, please visit: www.mitchellfamilyfuneralhomes.com.