Donna W. DeFilipps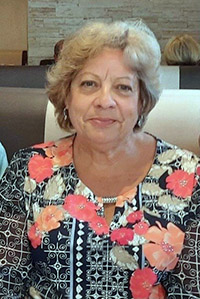 Donna W. DeFilipps, of Clarendon, passed away suddenly on Oct. 12, 2021. She was born May 10, 1956 in Brockport.  
Donna was a graduate of Holley High School class of 1974. She owned DeFilipps Grocery & Deli in Clarendon for many years. She was a life member of the Clarendon Historical Society and Concordia Lutheran Church/Hope Church. Donna enjoyed entertaining at the cottage on the lake and spending time with her children in Naples, Fla. 
She was predeceased by her father, Bruce Wohlers. 
She is survived by her husband, E. John DeFilipps; son, Todd and daughter, Stacy DeFilipps; mother Eileen Wohlers; siblings: Carol (Joe) Shatraw, Krista (Ken) Laureno, Eric (Cheryl) Wohlers, Lisa (Rick) Fiorito; and many nieces and nephews. 
The family will receive friends at the Christopher Mitchell Funeral Homes, Inc., 16650 State Route 31, Holley, NY 14470 on Sun., Oct. 17 from 1-4 p.m. Her memorial service will be held Mon., Oct. 18 at 10 a.m. at Hope Brockport (Concordia Lutheran Church), 6601 4th Section Road, Brockport, NY 14420. Interment will follow at Hillside Cemetery in Holley. 
Memorial contributions in Donna's name may be made to the church; or the Clarendon Historical Society, P.O. Box 124, Clarendon, NY 14429.
 To share a special memory of Donna, please visit: www.mitchellfamilyfuneralhomes.com