Donna K. Wolcott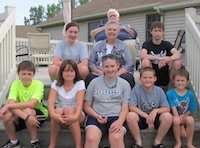 ALBION – Donna K. Wolcott, 76, died June 24, 2022 in United Memorial Medical Center after a brief illness.
She was born October 27, 1945 in Buffalo and had lived in this area her entire life. Donna was a member of the Albion 1st Baptist Church, the Young Women's Service Club and the Happy Horders Club.  She was also a leader in selling Party Light Candles and Jolica Jewelry and enjoyed crafting. Donna was a loving caregiver for her mother-in-law but her greatest passion was her grandchildren…they meant the world to her. Mrs. Wolcott was predeceased by her sister: Janice Jenzen.
She is survived by her husband of 56 years, George "Gil" Wolcott, Jr.; her son, Tim (Betsy) Wolcott of Albion; her daughter, Karen (Mike) Reid of Spain; 7 grandchildren, Jordan, Cassidy, Cade, Mhari, John, Kylie and Toby; her best friends, Debbie Maxwell, Cheryl Wirth, Mary Ann Braunbach and Mary Miesner; and her beloved dog, Mollie.
The family will receive friends on Friday, July 8, from 1 to 4 p.m. at the Christopher Mitchell Funeral Home, 21 West Avenue-Albion, where her funeral service will be held at 4 p.m. immediately following visitation. Private interment will be held at the convenience of the family. In lieu of flowers, memorials may be made to Supportive Care of Orleans, 14080 Rt. 31, Albion, NY, 14411.
To share a special memory of Donna, please visit: mitchellfamilyfuneralhomes.com.