Donald Lusk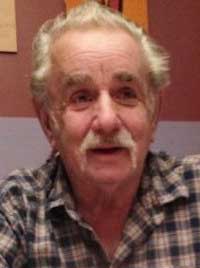 Donald Lusk, 83, of Albion, passed away peacefully on Aug. 2, 2020. Donald was born Feb. 12, 1937 and was a lifetime resident of Albion.
Donald served in the U.S. Navy during the Korean War. He enjoyed spending time with his family, hunting, and riding his motorcycle. He retired from Fisher-Price Toys in Medina, where he worked as a mechanic for many years.
He was predeceased by his mother, Bessie Lusk; sisters, Eunice Pike, Betty Lusk and Bessie Lusk; brothers, Stanley Polaski, David Lusk and George Lusk; and his grandson, Daniel Lusk.
He is survived by his wife of 62 years, Iva Lusk; children, Diana (David) Stafford of Waterport, Patrick (Diane) Lusk of Florida, Michele Chatfield of Albion, and Bryan (Valerie) Lusk of Tennessee; grandchildren, Stephanie Stafford, Lisa (Thomas) Kaczor, Corey Lusk, Kobe Pugsley and Skyler Pugsley; great-grandchildren, Micah, Noah and Benjamin; sister, Patricia Peruzinni of Waterport; and several nieces, nephews and cousins.
The family will receive friends on Fri., Aug. 7 from 4 to 7 p.m. at Christopher Mitchell Funeral Homes, Inc., 21 West Ave., Albion, where his funeral service will be held Sat., Aug. 8 at 11 a.m. To view the livestream of his funeral service, please use this link. Burial with military honors will be in Mt. Albion Cemetery.
In lieu of flowers, memorials may be made to American Diabetes Association, 4955 N. Bailey Ave. Ste. 217, Amherst NY 14226; or to Rheumatoid Arthritis Foundation, 122 E. 42nd St. 2315, New York NY 10168; or to American Heart Association, 25 Circle St. Ste. 102, Rochester NY 14607; or to National Kidney Foundation, 1344 University Ave. Ste. 270, Rochester NY 14607.
To share a special memory of Don, please visit www.mitchellfamilyfuneralhomes.com.