Donald H. Hilner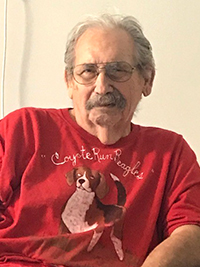 (Kent)  Donald H. Hilner, 80, died Oct. 20, 2020 at his daughter's home surrounded by his loving family.  He was born Dec. 4, 1939 in Milton, Pa., a son of the late John and Mary Ruth (Appleman) Hilner and had lived in this area for most of his life.
Donald served in the U.S. Army from 1957-1959.  He was a member of the Clarendon Fire Department and was an active member of the Coyote Run Beagle Club.  He retired from General Motors in Rochester where he worked as an assembly line worked for many years.  Don enjoyed hunting, fishing and gardening.
He was predeceased by his wife Donnna in 2010 and four brothers.  He is survived by his children: Tina M. Davis, Kris A. (Butch) Armes, David A. Hilner; grandchildren: Rebecca (Charles) Boylin, Suzanne (Tim) Relyea, Elizabeth (Dylan) Boylin, James (Sammy) Davis; great-grandchildren: Georgia, Dominic and Jaxson; his sister, Janet Hess; as well as several nieces, nephews and cousins.
There are no prior calling hours.  His Graveside Service and Military Honors will be held at Mt. Albion Cemetery on Fri., Oct. 23 at 11 a.m.  Memorials may be made to Lifetime Care Hospice, 3111 Winton Rd. South, Rochester, NY 14623.  To share a special memory of Don, please visit: www.mitchellfamilyfuneralhomes.com