Donald A. Klatt, Jr.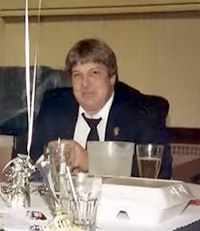 Donald A. Klatt, Jr., 58, Barker, NY, lost his battle with a long-term illness on Feb. 5, 2021. Donald was ushered into heaven by his father Donald A. Klatt, Sr., who passed away on the same day in 2009.
Donald attended Barker Central School and graduated with the class of 1980. He remained a resident of the Town of Somerset, his entire life. Those who knew "Donnie," knew that he dedicated his life to "A Life of Service." Donnie was most often, first on scene, may it be for a family member, a friend in need of a helping hand or a stranger facing a catastrophic life event, Donnie was there.
With unwavering pride and commitment, Donnie actively donated his time to the Barker Fire Department for nearly his entire life. He held many positions within the Department, including that of Assistant Fire Chief and Fire Chief. Friends and family could find Donnie anywhere from fighting the fires, to cooking at the chicken bar-b-ques, or risking his life to save another's. No matter where you came across Don, he would be found "getting the job done".
R.L. Draymen, LTD, employed Don at a very young age, where at the age of 23 Don became Co-Owner along with his longtime friend Thomas Sullivan. After retiring their company, Don's final career was his 20+ years with Marage Trucking, where he spent his time as Truck Driver, Mechanic and General Manager, guiding and assisting the owner in growing a successful business. Don's favorite past time would be camping with his family and friends.
Donald is survived by his beloved wife of 35 years, Judith (Allport) Klatt; Cherished by his son, Aaron (Heather) Nellist, and his precious daughter, "Punky", Elizabeth Klatt; Revered grandfather to: his "Princess" Morgan (Cort Schultz) Baker and "Best Bud" Willard Nellist; brother, C. Paul (Barb) Klatt; sister, Julie Klatt-Thompson (AJ St. Onge); brother-in-law Wayne Wilbur; several nieces, nephews and cousins, and his extended Allport family.
Don was preceded in death by his: Father Donald A, Klatt, Sr; Mother Geraldine (Mang) Klatt; Sister Margaret "Peg" (Klatt) Wilbur; Niece Kimberly (Wilbur) Braman.
To know Donnie was to love Donnie. He was kind, generous, and loving. In honor of Don's life and legacy, his wife and children have suggested that in lieu of flowers, donations may be made in his name, to the Barker Fire Department, PO Box 274, Barker, NY 14012; or the Barker Lions Club, PO Box 123, Barker, NY 14012.
Calling Hours will be Thu., Feb. 11, from 4-7 p.m. at Rutland-Corwin Funeral Home, 2670 Main St., Newfane, with a graveside service on Tue., Feb. 16 at 11 a.m. at the Somerset Town Cemetery, 8700 Lake Rd., Barker. For the safety of all, face masks are required.