Dianne Tabor Brown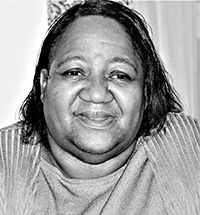 Dianne Tabor Brown, 69, of Medina, NY, passed away on Thu., Nov. 12, 2020 at Strong Memorial Hospital. Born on Nov. 10, 1951, in Medina, she was the daughter of the late Jessie Lee and Eloise (Holloway) Tabor, Sr. and Step-Father Richard Holloway.
Diane attended Medina Central School and graduated from the Iroquois Job Corp. She was formally employed as a home health care aide with Hanci Health Association of Niagara County, Inc. in Niagara Falls until her retirement.
Diane leaves to mourn her passing and cherished precious memories her partner of 32 years, John L. Crossley of Medina; two sons: Daniel (Jonna) Brown, Jermaine Brown; two daughters: Olivia Crossley and Devorah Crossley; 20 grandchildren, 25 great-grandchildren, 10 siblings: Jessie L. (Sally) Tabor, Jimmie L. (Pearlene) Tabor, Richard (Mary) Holloway, Jr. , Clyde (Deborah) Holloway, Regina Holloway, Melanie Holloway and Antonius Holloway, all of Medina and Willie Frank (Kim) Tabor of NC, Cynthia Tabor of Niagara Falls and Theresa (James) Armstrong of NJ. Also mourning Diane are her Aunt Glennis Chinn of Medina and a host of nieces, nephews and cousins.
She is predeceased by a son, Darrin James Tabor and a brother, Michael A. Holloway.
Diane was a kind and firm woman who enjoyed gospel music and cooking. She was loved by many and will be gone but never forgotten.
Friends may call on Mon., Nov. 23, 2020 from 11 a.m.- 1 p.m. at the Bogan & Tuttle Funeral Home, 226 Pearl St. Medina, NY 14103. Funeral service and burial will be private for the family.
Memorials may be made to the family, c/o Devorah Crossley, 308 Prospect St., Medina, NY 14103.
Please share a memory or light a candle in Dianne's name at: www.bogantuttlefunerals.com