David William Stevenson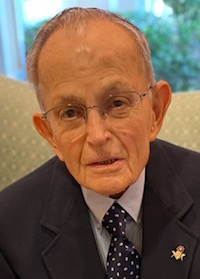 ALBION – David William Stevenson, 88, passed away peacefully on December 23, 2020 in Sarasota, FL. He was born August 19, 1932 in Albion, NY, the son of Jessie Davis Stevenson and Alexander McCauley Stevenson.
David graduated from Albion High School, class of 1950, worked briefly at Birds Eye Laboratories until joining the Air Force, 1952-1956, serving in the Veterinary Corp. He married Anne L. Marquis, the love of his life, in 1953 at Christ Episcopal Church, Albion. Following his discharge from the Air Force, David earned an Associates degree in Chemistry from Rochester Institute of Technology.
His career included working in food research at Birds Eye Laboratories, assistant plant manager at Hunt Wesson Foods, and Superintendent of Buildings & Grounds for Orleans County, retiring in 1991. David joined the Fraternal Order of Masonry in 1956 and was a member of Renovation Lodge #97 in Albion, serving as its Master twice as well as being appointed Niagara-Orleans District Deputy Grand Master to the NY State Fraternal Order of Masonry in 1979.
David was also a member of Sahib Shriners #183 in Sarasota, FL since 1994. He was also a lifelong member of Christ Episcopal Church in Albion, American Legion, Fraternal Order of Elks, and St. Wilfred Episcopal Church, Sarasota. David enjoyed woodworking, gardening, cooking, and household repairs and shared his talents with friends and family. One of David's most important legacies for his children and grandchildren was his love of family above all else.
David was preceded in death by his wife, Anne; parents, Jessie and Alexander Stevenson; brother, Donald L. Stevenson; and son-in-law, Stanley T. Saeger, Jr.
He is survived by daughter, Lynnette A. Saeger of Coopersburg, PA; son, David B. Stevenson (Santa) of Sarasota, FL; four grandchildren, Stanley T. Saeger III of Philadelphia, PA, Abigail M. Masi (Paul) of Sewell, NJ, Alexander D. Stevenson of Sarasota, FL and Jessica A. Rockey (William) of St. Augustine, FL; and one great-grandchild, Theodore S. Masi.
A celebration of life and burial at Mt. Albion Cemetery will be scheduled at a later date. Memorial donations may be made to Masonic Medical Research Institute, 2150 Bleecker St., Utica, NY 13501, Christ Episcopal Church, 26 S. Main St., Albion, NY 14411, or St. Wilfred Episcopal Church, 3773 Wilkinson Rd., Sarasota, FL 34233.
David's arrangements are in the care of Christopher Mitchell Funeral Homes of Albion, NY.  To share a special memory of David, please visit www.mitchellfamilyfuneralhomes.com.