David Lieberman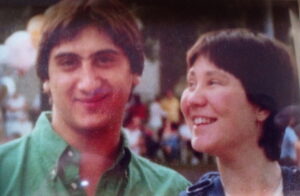 WATERPORT – In loving memory of David Lieberman, Aug. 23, 1958 to Oct. 25, 2019.
Tap, tap, tap on the window pane. Husband father and grandfather, you made us laugh, you taught us well, you held us when we cried, your counseling skills opened doors, for all of us when we sighed, you taught us good family values, respect kindness and love, having you always to turn to, such blessings from above. But then came the time quickly, like the sudden storm and rain, like the wind that rattles and sweeps, on the outside window pane. Tap, tap, tap on the window pane, though you are not with us here, tap, tap, tap on the window pane, we shudder to hear you near, only a loving visitor in the night, please those still on Earth have no fear, I am closer than you think, moving freely high above, so this message comes to my dear ones, carrying a heart that bursts with love, for each and every one of you. As I tap, tap, tap from above.  
Donations in David Lieberman's name to World Life Institute Project Life War Orphans' program would be appreciated. By mail, World Life Institute, PO Box 167, Waterport New York 14571. Click here to be directed to the WLI website.