David D. "DJ" Tombari Jr.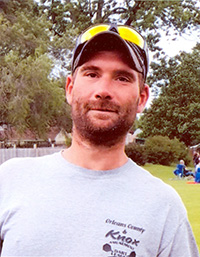 David D. "DJ" Tombari Jr., 34, of Lyndonville, NY, entered into rest on Sunday, March 21, 2021.
He was born on March 19, 1987 in Albion, NY, a son of David D. Tombari Sr. and the late Debra (Grah) Tombari.
DJ attended Lyndonville High School and received his G.E.D. through Niagara/Orleans BOCES. He was currently working for a tree service company and was a talented tree climber. He was an avid outdoorsman, which he was passing down to his son by teaching him to hunt, fish and race dirt bikes. DJ had a love of music and enjoyed attending live concerts. Most of all, DJ enjoyed the time spent with family and friends.
DJ is survived by his father, David D.(Clara) Tombari Sr. of Medina; his son, Dominik Tombari; three siblings: Miranda Tower and Zachary Tombari, both of Medina and Dorothy Lee of Florida; aunts and uncles: Dorine "Aunt D" (Thomas) Kepner, Dennis (Heather Roberts) Tombari, all of Lyndonville; Bob Grah of Calif.; Karen Grah and Diane Grah, both of Albion. Also survived are cousins that considered him a brother: Thomas Jr. Rebecca, Aaron and Brittany; and his significant other, Savannah Vigrass and her son, Bryson Bluhm.
Besides his mother, DJ is predeceased by his infant son, Donovan George Tombari and his grandmother, Marilyn Eisenhower.
In lieu of flowers, memorials may be made to his son Dominik Tombari trust account at the M&T Bank in Lyndonville, NY.
There are no calling hours. A private service will be held at the convenience of the family.
Arrangements were entrusted to the Bogan & Tuttle Funeral Home, 226 Pearl St., Medina, NY 14103.
Please light a candle or share a memory of DJ at: www.bogantuttlefunerals.com