David C. "Dave" Bentley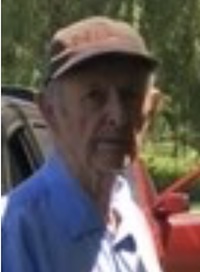 LYNDONVILLE – David C. "Dave" Bentley, 92, of Lyndonville, NY went to be with the Lord at the Supportive Care of Orleans, Albion, NY with his loving family at his side.
Born on July 4, 1930 in Lyndonville, NY, he was the son of the late Louis and Frances (Young) Bentley.
David grew up in Lyndonville and graduated from Lyndonville High School. He worked for the Walker-Gordon Dairy Farm, where he took care of the famous Elsie the Bored Cow. David enlisted in the U.S. Air Force, serving as a Second-Class Airman. Upon returning home, he married the former Virginia Ames and together they raised two daughters.
He was employed as a Stationary Engineer for Harrison Radiator for 35 years. After Virginia's passing, he married the former Carolyn Rowland Meyer and together they made their home in Lyndonville. David was a former member of the Yates Baptist Church and enjoyed the outdoors, especially while farming and camping. He also enjoyed reading and puzzle books.
David is survived by his wife of 27 Years, Carolyn Bentley; two daughters, Brenda (James) Knapp of Lyndonville and Rebecca Bentley of Medina; grandchildren, Brittany Osby, Nathaniel Bentley, Stormy Osby, Henry Greene, Anthony Bentley Solomon and T. Roman Bentley Solomon; nine great-grandchildren; a brother, Norman Bentley of Sodus Bay, NY; step brother, Blaine (Nancy) Worth of Lyndonville, NY; sisters-in-law, Dorothy Jean Bentley and Mary Bentley of PA; also surviving are many nieces and nephews.
David is predeceased by his brothers, Curtis, Donald and Elton Bentley.
Relatives and friends may call on Tuesday, Feb. 7, 2023 at the Bogan & Tuttle Funeral Home, 226 Pearl Street, Medina from 2 to 4 p.m. and 7 to 9 p.m. A funeral service will be held Wednesday, Feb. 8, 2023 at the Yates Baptist Church,11365 East Yates Center Road, Lyndonville, NY 14098 with the Pastor Rev. Lyell Drake officiating. Burial will be at the Lynhaven Cemetery with full military honors.
Memorials may be made in David's name to the Yates Baptist Church or to Supportive Care of Orleans, 14080 Route 31 West, Albion NY 14411.
Please light a candle or share a memory of David at www.bogantuttlefunerals.com.