Daniel L. Reed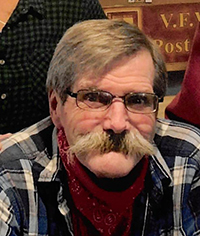 HOLLEY – Daniel L. Reed, 74, passed away May 6, 2023 at Strong Memorial Hospital. He was born June 29, 1948 in Batavia, NY, a son of the late Myron and Margaret (Marshall) Reed.
Dan was a graduate of Albion High School and was a former member of the Boy Scouts.  Dan served in the United States Army and was a life member of the Holley VFW Post 202 and the American Legion.  He enjoyed hunting, fishing, golfing and socializing.
He was predeceased by his brothers, R.C., Ed and Butch Reed. He is survived by his sisters, Bernice Scott and Carrie (Mick) Torrington; brother, William Reed; dear friend Hank Bailey, and several nieces, nephews, cousins.
A celebration of Dan's life will be held at a later date. Memorials may be made to the Holley VFW Post 202, 8 Veterans Dr. Holley, NY 14470.
Dan's arrangements have been entrusted to Christopher Mitchell Funeral Homes. To share a special memory of Dan, please visit:www.mitchellfamilyfuneralhomes.com.