Craig A. Donahue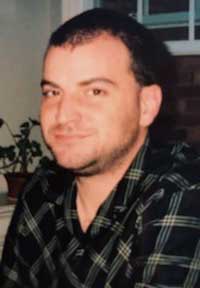 Craig A. Donahue was born in Oil City, Pa. on Dec. 5, 1973 to Ross and Mary Ellen Donahue. He was raised there as a child, and the family moved to Houston, Texas in the early 1980s. Craig met his husband, Michael Caldwell, in Houston in 2005, and they were married in Niagara Falls, Canada on Dec. 23, 2005. They moved to Medina in 2009 to help take care of Michael's family. Craig was diagnosed in 2001 with ADEM. He passed peacefully in his sleep from the disease on June 9, 2019 after a 19-year battle, under the care of Hospice of Orleans, his loving husband, and his family.
Craig made friends fast and had many in Houston and Medina who will remember his wit and sparring conversations, and how he could make them laugh! He will be dearly missed by his family and friends.
Craig is survived by his husband of 13½ years, Michael Caldwell; his parents, Ross and Mary Ellen Donahue; sisters, Kelly (Darren) Snavely and Jennifer Brown; mother-in-law, Barbara Caldwell; sister-in-law, Teresa Caldwell; brother-in-law, Steven Caldwell; aunts, Cindy (Arman) Miller and Darlene (Mark) Jones; nieces, Jordan (Blake) Pavlock, Kelsey Snavely and Regan Brown; nephew, Ryan Brown; and his special buddy, "Max," his neighbor's English bulldog.
There will be no calling hours. Craig's interment will take place on Sat., June 22 in Houston, Texas with his family and close friends.
Craig's family would like to give special thanks to Dr. Tomas Holmlund and the staff at The Dent Neurologic Institute for their compassionate care over the last three years as Craig declined. The family would also like to give special thanks to Hospice of Orleans for their supportive and compassionate care of Craig during his last five months, keeping him comfortable with dignity at home. A special shout-out to Donna Stevenson, RN, and Betsy Higgins, MSW, who became part of Craig's family and showed exceptional service in their care. Thanks to them is not enough to describe their compassion and care through Craig's final journey.
Craig and his family request donations in his name be given to Hospice of Orleans to continue their mission to care for others at the end of life. This place is a true gem in the community! Donations may be mailed to Hospice of Orleans, Inc. – Donations, 14080 Route 31 West, P.O. Box 489, Albion NY 14411.
Arrangements completed by Gilmartin Funeral Home & Cremation Company, Inc., 329-333 W. Main St., Batavia NY 14020. To leave a message of condolence, please visit www.gilmartinfuneralhome.com.