Colleen A. Sauro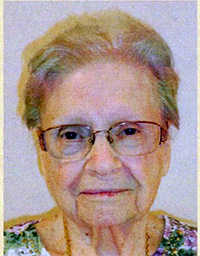 Colleen A. Sauro, 94, of Holley died June 9, 2021 at Elderwood at Brockport.  She was born Dec. 26, 1926 in Batavia, a daughter of the late Cecil and Jessie (Davis) Moore and had lived in this area all of her life.
Colleen loved to crochet, play bingo, go to the casino and play scratch-off tickets.  She also enjoyed crossword puzzles and playing games on her tablet.  She worked for many years as a machine operator at Kodak in Rochester.
She was predeceased by her husband, Leonard in 2007; brothers: Cecil Moore, Clifford Moore and Ronald Moore.  She is survived by her son, Larry (Pat) Sauro; daughter, Janice (Brad) Broekhuizen; grandchildren: Bob Sauro, Shannon (Tim) Sauro, Joelle (Dan) Pfennig, Zachary (Jessica) Broekhuizen; great-grandchildren: Kendra Quill, Gina Sauro and Wyatt Broekhuizen; siblings: Zola Smith, Vera Kingdollar, Frieda Sabo, Betty Faulks, Bernice Smith, Robert Moore, David (Becky) Moore, Sandy (Jerome) Kozlowski; as well as several nieces, nephews and cousins.
The family will receive friends at the Christopher Mitchell Funeral Homes, Inc., 16650 State Route 31, Holley, Sat., June 12, 12-2 p.m. where her Celebration of Life service will follow at 2 p.m.  Burial will be in Hillside Cemetery. 
Memorials may be made to: Holley Volunteer Fire Company, PO Box 465, Holley, NY 14470; or the Organization of one's choice. To share a special memory of Colleen, please visit: www.mitchellfamilyfuneralhomes.com